Simplify IT, save money and reduce risk with ThinkAgile HX Series.
ThinkAgile HX Series for SMBs.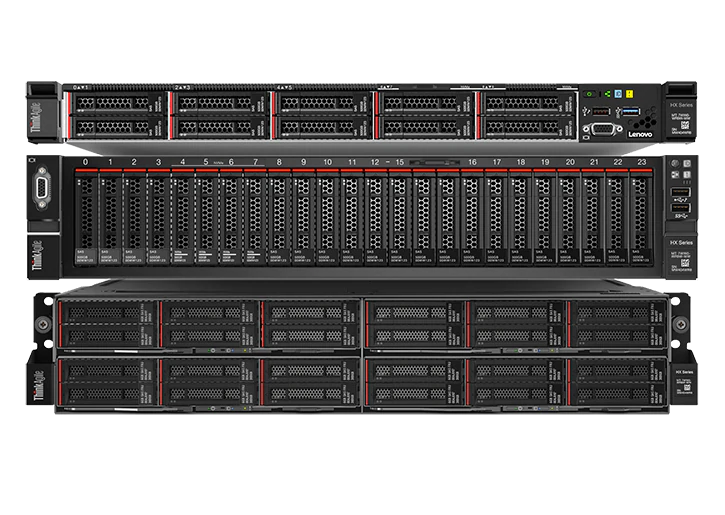 Simplify IT infrastructure and accelerate time-to-value with Lenovo ThinkAgile HX Series appliances powered by Nutanix. Scalable and tailored to workloads with integrated compute, storage and pre-loaded virtualisation software. Built for result driven IT Leaders, the Nutanix Enterprise Cloud OS takes the pain out of infrastructure management. Increase your freedom and deploy your HCI clusters rapidly and confidently with Lenovo.
Lenovo has engineered, tailored, and validated ThinkAgile HX designs for a wide range of business solutions, so that you have the freedom to run any workload, at any scale, all the time. It is a best-in-class hyperconverged system with Nutanix's industry-leading software preloaded on Lenovo platforms that dramatically simplifies datacentre management, frees up your IT staff, and accelerates your deployment, ultimately reducing your total ownership cost.
Lenovo HXpedite is a unique Lenovo program designed to deliver the benefits of Nutanix Enterprise Cloud through a smooth selling process with an extended selection of eligible pre-validated ThinkAgile HX Series appliances to give your customers the freedom to go beyond complex infrastructure to the simplicity
of one-click applications and IT management.
1U appliance specifically tailored for various types of workloads for small and medium sized businesses.
1U general purpose appliance for compute-heavy workloads including VDI, private/hybrid clouds, ROBO and more.
2U appliance for several workloads specifically designed to host up to 5 GPU for computationally intensive tasks.

2U appliance optimised for storage-heavy workloads including file servers, on-cluster backups and big data.
Build Rack Solutions with Speed and Confidence
Our engineering-validated designs allow you to put together an IT rack optimised for your applications using industry-leading servers, software, networking and storage. 
Let us assist you with any questions you have about products and services. Our First Distribution advisors can provide expert guidance and can customise a solution that meets any need you have, large or small.
lenovo.dcg@firstdistribution.com